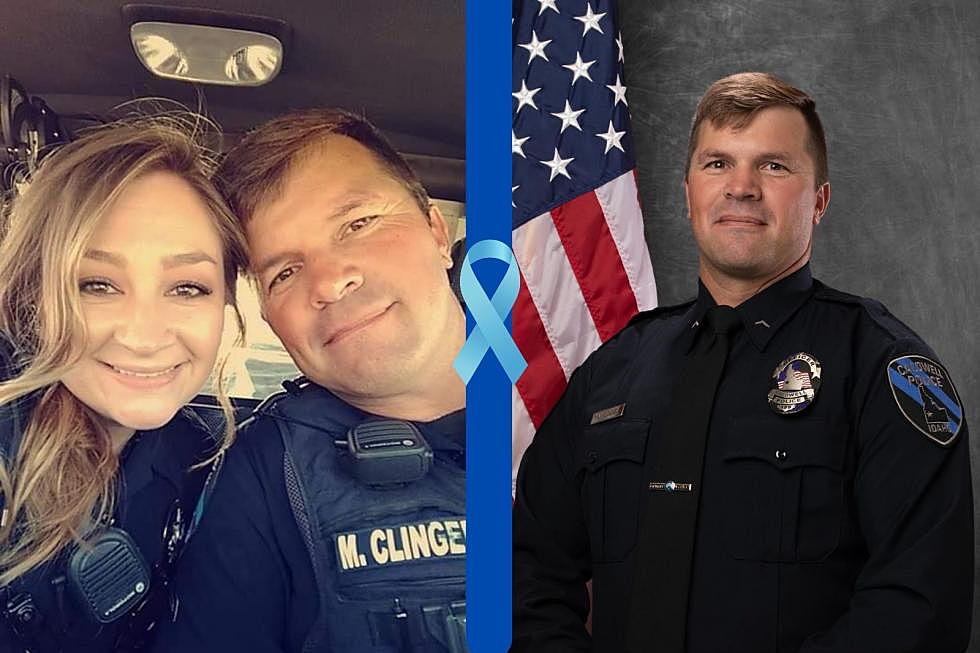 2 Beautiful Ways to Uplift a Caldwell Police Officer with Advanced Cancer
Photo from Caldwell PD Facebook // Canva
Who is Officer Jake Clinger?
CALDWELL, Idaho. Officer Jake Clinger is a family man, a proud Idahoan, and patriot.
It is with pride and distinction that Officer Clinger has served the Caldwell Police Department and Boise's Treasure Valley. For more than 15 years, Clinger has donned the Blue and upheld the tenets of the Law Enforcement Oath of Honor.
---

On my honor, I will never Betray my integrity, my character Or the public trust. I will always have the courage to hold myself and others accountable for our actions. I will always maintain the highest ethical standards and uphold the values of my community, and the agency I serve.

—International Association of Police Chiefs

 

---
Celebrating the Caldwell Police Traffic Unit
At a time when the nation's law enforcement officers are under amplified scrutiny, Clinger's devotion to his community is reason to celebrate. But what does that look like? Presently serving on the Caldwell Police Traffic Unit, Clinger's operations include:
Decreasing the rate & severity of traffic-related accidents
Responding to aggressive drivers
Strategizing methods that foster safer driving conditions
Finding solutions to complex & hazardous traffic problems
Assisting with local events
Educating Caldwell drivers
Safeguarding the City of Caldwell
For context, a study conducted by Idaho's Department of Transportation in 2021 shows aggressive driving contributed to 489% of Idaho car crashes that resulted in the deaths of 94 people. Such data points to Officer Clinger's invaluable contributions in safeguarding the residents and drivers of the City of Caldwell.
A Devastating Diagnosis
At 46-years-old, Officer Clinger was recently diagnosed with stage four metastatic prostate cancer.
The loving husband and proud father of six beautiful children will undergo a course of treatment that includes the removal of his prostate as well as several iterations of radiation, relieving him of duties for a period of weeks-to-months.
As Officer Clinger prepares for surgery this week, we are keeping him and his family in our hearts and prayers. Officer Clinger, we want you to know the Treasure Valley is cheering you on and wishing you a speedy recovery!
2 Beautiful Ways to Uplift the Clinger Family
All Aboard the Meal Train. The Caldwell Police Department has organized a meal train for the Clinger family. Call Caldwell PD at (208) 576-6683 for details on how to participate.
Beautiful Boise Mom is a Top Contender in New Beauty Magazine's Cover Girl Fundraiser Competition for National Breast Cancer Foundation
10 Treasure Valley Nonprofits That Are Total Gems
Top 10 Boise Brands that Love Military & First Responders
These 10 Boise businesses and retailers offer service members, Veterans and first responders deals and discounts every day!

More From Idaho's Talk Station