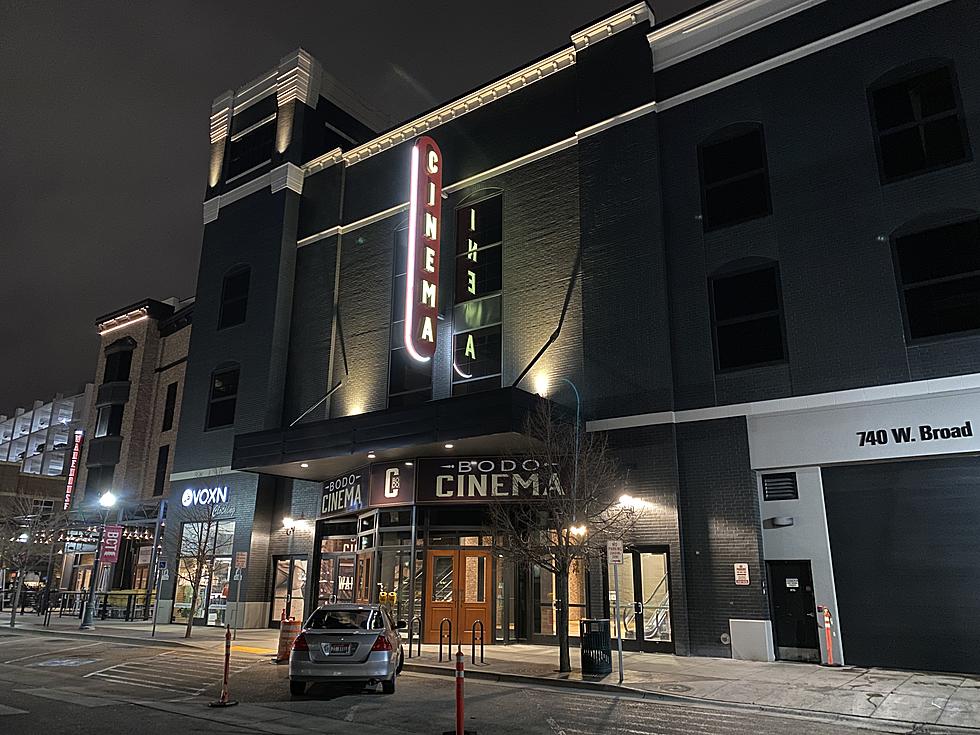 Boise's Cool New Movie Theater Adds 5 More Movies to Opening Weekend
Cinema West
It's been almost 900 days since a theater in Downtown Boise has shown a first-run movie. That drought is about to come to an end! Cinema West, the company which has owned and operated Village Cinema since 2013, is ready to show off its new theater in BoDo.  
The company announced plans to renovate the defunct nine-screen Regal Edwards theater in May 2021. While the renovations took a little longer than they expect, the new look and new amenities will be waiting for guests when the theater officially opens on Thursday, March 23. Initially, the only movie listed for opening weekend was John Wick Chapter 4. If that franchise isn't for you, you'll be happy to know that Cinema West has added five more movies to the opening weekend! 
According to the listings on their website, guests hoping to catch a flick in one of the renovated theaters may also see these movies starting Saturday, March 25. 
Shazam! Fury of the Gods
Scream VI
Creed III
Cocaine Bear
Dungeons & Dragons: Honor Among Thieves (Sneak Previews Sunday, Wednesday and Thursday before wide opening on March 30.)
What's New at BoDo Cinema?
Cinema West had a more modern look in mind for the theater lobby that was once covered in bright orange and purple paint and checkered floor tiles.  As you can see from the photos below, they've changed the paint on the floor and flooring. 
The old stadium seating was taken out and replaced with Luxury Electric Recliners. In the front row of many of the theaters, you'll find Luxury Electric Chaise Loungers big enough for two guests to share at the same time. A CinemaWest representative told one of our co-workers that in their other locations, these haven't just been a hit with the younger crowd. They've also been a hit with older couples that have trouble sitting for a long time. Theaters 4 and 5 also got new sound systems where it makes the sound feel like it's actually moving around the room. More and more film makers are taking advantage of that technology! 
But what we think is REALLY cool and may go unnoticed by many are the two murals they installed. Years ago, 8th Street Marketplace Cinemas, was THE movie theater in Downtown Boise. One of the fondest memories people have of the theater was the murals of famous movie stars like John Wayne, Humphrey Bogart and Marilyn Monroe painted on the building. Whether it was intentional or not, CinemaWest seems to have paid tribute to that theater that closed for good in 2003. They've installed this Marilyn Monroe mural in the lower lobby before you take the escalators upstairs. 
They also installed this James Dean mural above the reader board as you walk toward your theater. It's a really cool local "easter egg." 
Not the Only New Business in BoDo
The theater's grand opening comes just a few days after the Treefort Music Hall hosted their first show. The all-ages concert venue renovated the vacant Office Depot storefront. It will not only serve as a venue for music and yoga during the music festival, March 22-26, but it will also host concerts year-round. Right now, their website shows concerts booked clear into July. 
They plan to open the "Hap Hap Lounge," a 21+ only rooftop bar on top of the venue later this summer. 
KEEP READING: Where are the Remaining Drive-In Movie Theaters in Idaho?
Idaho has one of the highest number of remaining drive-in theaters per capita. Here's where you can find them!
5 Throwback Boise Movie Theaters We Miss
6 Idaho Dream Homes With the Coolest Home Theaters
Whether you're into super hero movies or romantic comedies, these homes give you unique places to gather the fam, girls, whoever to watch a few movies!
More From Idaho's Talk Station