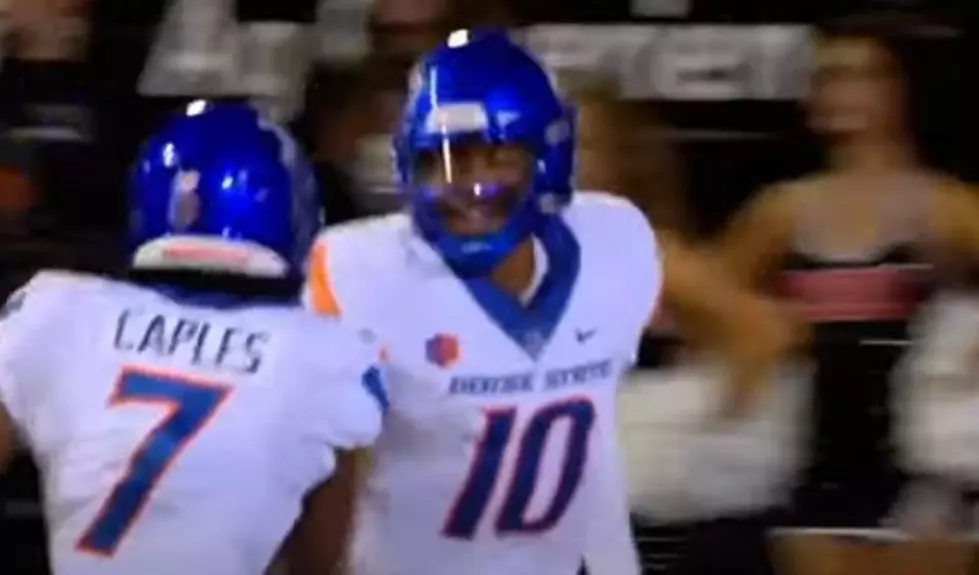 Boise State Moves on from Talented Taylen Green
YOUTUBE / KTVB
Boise State's 'season on the brink' continues as the team announced Friday that Maddux Madsen will replace Taylen Green as the starter for Saturday night's game against New Mexico. BSU is expected to beat the Lobos handily, according to the experts who've given the Lobos a mere 6.9% chance to win. 
The move reminds many Bronco fans who had seen this movie before when Green replaced Hank Bachmeier, who left the team. Bachmeier was a four-year starter who grew frustrated with the offense of Tim Plough, who was fired during the season.
Last year, Mr. Green was the Mountain Freshman of the Year. He benefitted from the guidance of interim offensive coordinator Dirk Koetter. The Bronco quarterback was compared to college football legend Vince Young, and Robert Griffen, the third (RG3), spoke to him for several hours.
10 Must See Away Games For Boise State Football
Ten Stadiums That Deserve Boise State Football
Gallery Credit: KEVIN MILLER
Coach Koetter retired again from football while Boise State hired Bush Hamden as the fourth offensive coordinator in three years since Andy Avalos became the Bronco coach.
Coach Hamden's offensive relies more on motion and first or second reads than the run/pass (RPO) that Coach Koetter used last year. 
Boise State's Lost Season
Boise State's season is now in a free fall, with four wins and five losses. They may not win enough games for the first time in several years to be bowl eligible.  
We reported on Mr. Green's unlimited potential here. We did warn that whoever worked with the quarterback had to appreciate his potential.
'There has yet to be a quarterback with the unlimited potential of Taylen Green. The most crucial move that Boise State will make in the off-season is who they will hire as their new offensive coordinator. Coach Koetter moved back to Idaho to retire and looks forward to returning to the golf course.'
Time For Taylen to Leave Boise State?
Will Mr. Green leave the team? Last year, his agent took to social media clamoring for more money from Name, Image, and Likeness (NIL). You can read the entire story here. 
'Mr. Green is a young man who has shown tremendous promise, and it's up to the university to fulfill its role in his development. We've seen several players enter the Transfer Portal only to be left out of the cold without a team. We've observed Mr. Green at a charity event, which took time to engage with his fans of all ages.'
Rabid online speculation has begun that Mr. Green will join star wide receiver Eric McAlister in the transfer portal. Bronco running back Ashton Jeanty has been rumored to be looking to leave the team for a more stable situation and additional NIL money. There is no confirmation that Mr. Green or Mr. Jeanty are looking to leave Boise State.
This writer believes that Boise State has failed to take advantage of Taylen Green's potential. Hopefully, the coaches will realize their mistake before it's too late.
Boise State Football's Biggest Rivals
A look at some of Boise State Football's biggest rivals over the years.
Gallery Credit: KEVIN MILLER
17 Things You Should Never Do at a Boise State Home Game
Things that are a no-no to do in or around a Boise State game.
Gallery Credit: Michelle Heart
More From Idaho's Talk Station