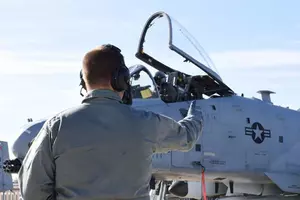 Boise Elementary Students Get a Boost with New Science Program
Photo Cred: Idaho Air National Guard Public Affairs
A new program is coming to Boise to help inspire elementary kids to soak up as much as they can in  science-related fields, and it will give them a chance to learn hands-on at an Air National Guard base.  One grade level will get the opportunity, and they hope to have 1500 kids involved at the peak.
The program is called Star Base, and right now it's in more than 30 locations across the country, according to KTVB.  The goal is to inspire fifth-graders to explore science, technology, engineering and math, or STEM and they'd like to have it up an running in Boise by early next year.
The program uses interactive, and hands-on projects to help kids learn and, and the hope is they'll keep that interest when they get to be juniors and seniors in high school and begin to choose a career path.
Organizers of the Star Base program are working with Boise schools right now to take kids to the Gowen Field one day a week for five weeks.  Once the program starts in January, it would renew every school year and become a standard part of the Boise 5th grade curriculum.
Anyone else have a science-loving 4th grader?  Me too.  And this fun new opportunity is going to make a great dinner conversation.
More From Idaho's Talk Station