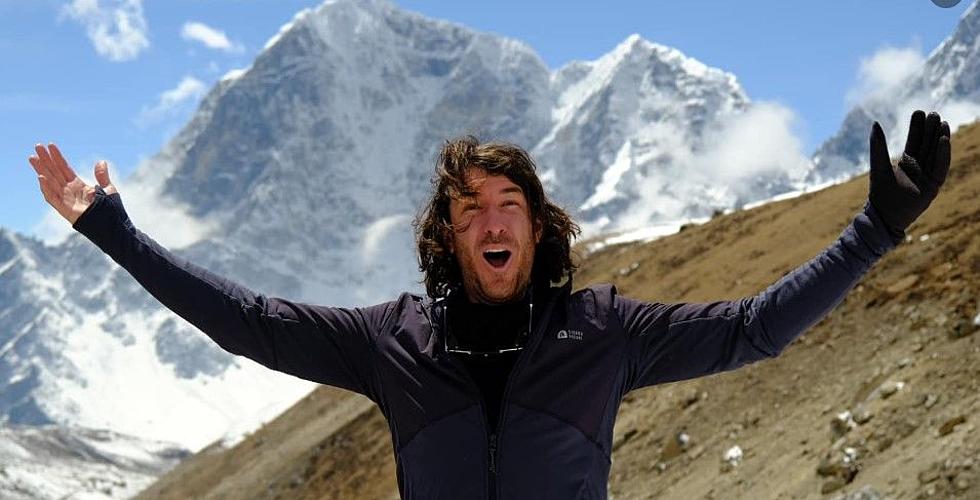 Idahoan conquers the world's highest peak, Mount Everest [photos]
Photo Courtesy of Jeff Zausch Facebook
Idaho's highest peak is Mount Borah which is 12,662 feet and is one of the most challenging climbs in the state. If an Idahoan were to travel to the world's highest summit, Mount Everest, 29,032 feet, they would have to travel well over 7,000 miles to begin their ascent.
Jeff Zausch is one of the rare people you meet that you cannot describe. To say that Jeff loves adventure is an understatement. To say that Jeff has lived in extreme conditions doesn't begin to give his accomplishments any sense of justice. Thankfully we'll use Jeff's description from his Facebook page to introduce you to him.
Does the name Jeff Zausch sound familiar to you? Perhaps you're a big fan of the Discovery Channel's Naked And Afraid? The show is just as it describes; folks are naked and left to survive in the wild. It has been a runaway hit on cable and streaming for years. Mr. Zausch just announced that he would compete in the next version of the show called "Naked and Afraid," The Last One Standing, which will begin airing May 7th on Discovery and Discovery +. Mr. Zaucsh has competed on Naked and Afraid going back to the show's first season.
When the Pocatello resident isn't fighting pythons in the jungle, he hosts Dual Survival on Discovery Channel. However, Mr. Zausch decided that during the Easter season, he would fulfill his childhood dream of climbing Mount Everest.
Why would anyone who has accomplished so much want to take on Mount Everest? Mr. Zausch told us his desire began in Idaho and that his father inspired him to challenge himself throughout his life. "Growing up in Idaho, I grew a love for the outdoors at a very young age. I was raised as a country boy, like many in our state. What projected me on my current path to "conquer the impossible" can be tied directly to my late father, Matt Zausch."
Jeff explained how his father proved the experts wrong.
"My dad was born with a heart defect and should have never survived infancy. He was the first infant in the United States to receive an aorta valve replacement in his heart using the valve from a pig. That first open-heart surgery would be just one of over a dozen in his lifetime; my father's doctors continually urged him to prepare for the worst.
"At first, the doctors said he wouldn't live long enough to see elementary school, and then they said the same thing about high school, and then they said the same thing about his chances of living long enough to get married and have a family.
"And one by one, my father kept proving science wrong and was an example of how to "do the impossible. Being a boy growing up and watching my father's example of perseverance, the refusal to quit fighting, and his unique appreciation for life have led me to the Himalayas to tackle the highest mountains on planet Earth. I can't exactly walk in my father's shoes, but Mt. Everest is an excellent place to start.
Mr. Zausch kept everyone up to date on his incredible adventure, describing the conditions and his endurance challenges. He told his Facebook audience, "The past three days, I've been putting in very long days, climbing my heart out. So far, I've trekked a total of 111 miles! And I gained a cumulative elevation of over 27,000 feet! My body is feeling it. Fortunately, I descend to 15,000 feet shortly, where oxygen is more plentiful. There are no words for the beauty here. The closest description I can think of is "Heaven."
He completed the rare Everest Triple Crown, which he describes here on Facebook. "I have officially summited and traversed all 3 Everest Region high mountain passes! And that's in addition to my two official summits, Kalapathar and Gokyo Ri. And perhaps the greatest accomplishment of all, we successfully delivered hundreds of Solar Lights, Solar Battery Chargers, and Reading Glasses to countless villages, hospitals, and schools along the way. We came with packed bags, and we're now leaving with full hearts.
Check Out This Idahoan's Epic Mt. Everest Adventure
Exclusive photos of Idahoan Jeff Zausch climbing the word's highest peak.
The Most Oddball Roadside Attractions in Idaho and Its Surrounding States
Cheapism recently shared a list of the most "oddball" roadside attractions in every state. If you're road tripping through Idaho and its neighboring states, you may just see one of these!
The Top 10 Best Lakes In Montana
See What We Think Are The Top 10 Best Lakes In Montana
More From Idaho's Talk Station