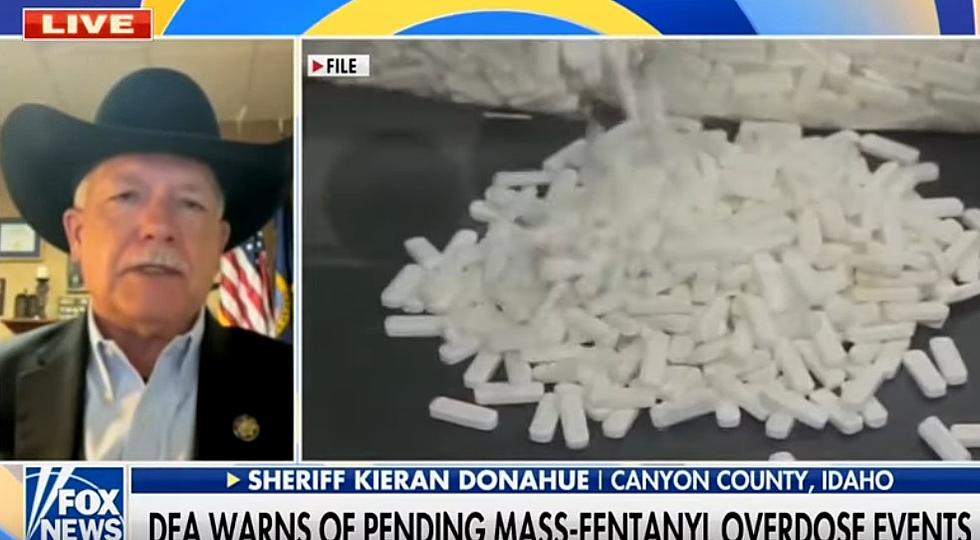 Idaho's Tragic Fentanyl Crisis Continues to Overwhelm Police
YouTube/Fox News
An Idaho sheriff told a national television audience that states like Idaho do not have the resources to fight the expanding Fentanyl crisis. Canyon County Sheriff Kieran Donahue again appeared on Fox and Friends First, explaining how Fentanyl use is increasing. He said that the Biden Administration's open border policy has allowed more Americans to be endangered due to more access to Fentanyl.
Sheriff Donahue explained that border officials are not catching enough of the drugs at the border. The DEA warned Idahoans that a new strain of the drug called Rainbow Fentanyl is a danger to adults and children. You can read here our coverage and see what it looks like by clicking the link here. Fox News tells us how powerful the drug is in this report.
However, the White House Press Secretary Karine Jean-Pierre told the nation yesterday the Biden Administration has stopped the Fentanyl threat to Americans. You can see her comments here.
What is Fentanyl?
"Fentanyl, a powerful opioid up to 50 times stronger than heroin, was responsible for 71,238 of the record 107,000 fatal drug overdoses in the United States last year, according to the CDC."
Sheriff Donahue echoed the warnings from the DEA that this new drug is target towards children that believe the Rainbow Fentanyl is some type of candy.  The sheriff has continued to raise awareness about Idaho's drug crisis at the local and national level.
The Biden Administration continues to ignore the pleas from local, state, and national law enforcement officials urging them to reform their open border policies.  You can see the entire interview below.
Nampa woman arrested for the largest Fentanyl bust in the district of Idaho's history reports the Drug Enforcement Agency? How big? Here are the details from the DEA:
"According to court records, Insixiengmay was a main fentanyl distributor for a large drug trafficking organization with direct ties to Mexico. Insixiengmay received between 12 and 15 pounds of fentanyl (approximately 60,000 pills) on a weekly basis for local distribution."
"In return she was sending between $50,000 and $100,000 back to the supplier each following week. When she was arrested on June 7, 2022, she had over 30,000 fentanyl pills (approximately seven pounds), nearly eight pounds of fentanyl powder, 180 grams of methamphetamine, and $12,435 in drug proceeds."
Gangs Distribute Fentanyl
The drugs are distributed by gangs that rival organized crime. Here's a look at some of the gangs to look out for in our area.
Everything You Need To Know About The Norteños Gang
Let's look at the Norteños gang which was involved in an incident in Caldwell with their rivals, the Sureños.
Everything You Need to Know About The SVC Gang in Idaho
Here is everything you need to know about Severely Violent Criminals (SVC), a gang that resides in Idaho.
Everything You Need To Know About The Sureños Gang
Now, let's look at the Sureños gang which was involved in an incident in Caldwell with their rivals, the Norteños.
How To Get Along With Idaho Law Enforcement
✅ Here's How To Behave When Idaho Police Stop You
BOISE, Idaho. For many, getting pulled over by law enforcement can be an uncomfortable experience. Because knowing better leads to doing better, we're exploring the dos and don'ts of getting pulled over in Idaho.
Scroll on for advice on the do's and don'ts of Idaho traffic stops from an Idaho Criminal Defense Attorney! For more information, click the pic!
More From Idaho's Talk Station